Buy Used Moving and Shipping Boxes the Easy Way
Used boxes are great for the environment and your wallet, but getting them can be a hassle. We minimize work, uncertainty, and delays to help you get your boxes and get on with your day.
The Buying Process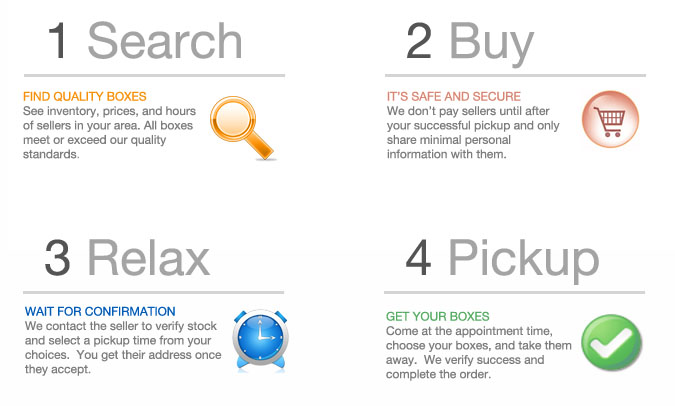 Frequently Asked Questions
Initial Questions
Where Are You Located?
We are based in San Francisco, CA. Boxes are available for purchase throughout the United States; visit our Buy Boxes section and enter your location to see listings in your area. If you'd like to buy outside of the United States check international info.
How Do I Buy Boxes From You?
BoxCycle is a marketplace; we facilitate purchases from independent sellers in your area. We currently offer two ways to buy boxes:
Buy From Seller Listings - Visit our Buy Boxes section and enter your location to see available listings in your area. Click the 'Buy From This Seller' button and complete checkout to place an order. If you don't see boxes you want, create a Wanted Listing to be notified when matching boxes are listed near you. Keep reading this page for all the details and common questions.
Create a Sell to Me Listing - Allow people to sell you boxes by creating a Wanted Listing with specific box information and then converting it to a Seller Wanted Listing. This works best if you need large quantities of boxes on regular bases. Learn more about Sell to Me Wanted Listings.
Is Using BoxCycle Safe?
We take a number of steps to make transactions safer:
You pay BoxCycle, not the seller; you do not need to bring money to your appointment and your financial information is not available to the seller
Sellers are only paid after your successful appointment
We only share minimal personal information with sellers; often just your first name and first letter of your last name
Our free Anonymous Connect service enables appointment-time phone communication without revealing your phone number
Seller locations are available with accuracy of about a block prior to ordering so you can decide if you are comfortable with the pickup neighborhood
We track order history and disable problematic sellers
Although BoxCycle is safer than many alternatives, you are still buying from independent, unvetted third-parties and should take common-sense safety precautions such as considering the pickup neighborhood, selecting appointment hours you are comfortable with, and bringing along friends if you are concerned. Similar to what you'd do if you were responding to an online or a newspaper classified ad.
For additional peace of mind consider buying from A+ sellers. These sellers have a history of successful transactions through BoxCycle.
How Do I Order? How Does BoxCycle Work?
You place an order online through our Buy Boxes section. For details on what happens after you order, see our Order Flowchart.
How Do I Buy At the Seller Location?
All orders must be placed, and paid for, online through our website. We accept all major credit cards as well as PayPal.
Your payment will be authorized, but not charged, at order time. We'll pay the seller, and charge you, only after your successful appointment.
All payment information is handled securely and is not shared with sellers. If you prefer to not share your financial information with BoxCycle you can do so by paying us through PayPal.
Can I Buy Boxes Outside of the United States?
Not yet, but we plan on expanding to other countries. Tell us about your interest and we'll notify you when we are available in your country.
---
Ordering Questions
How Do I Pick a Listing to Buy From?
Seller listings provide you with all the information needed to make a purchasing decision:
Available Boxes - Click on the underlined box name for all available details about each box
Stock - How many of each box the seller has available for purchase
Price - How much each box costs
Hours - When the seller is available for appointments
Directions - Driving directions to within a block of the seller location
Distance - Direct (straight line, not driving) distance from search location to the seller
Map - A map showing the seller location with accuracy of about a block; zoomable to neighborhood and street level
Delivery - Shipping and delivery options if offered
Details - Minimum order, lead time, etc.
Performance - Order completion rate, response time, and/or time since last activity
Each seller listing has their own numbered marker icon you can use to locate the seller on the map and their own 'Buy From This Seller' button you can use to place an order.
All available information is generally provided in the listing, but if you have questions feel free to contact us.
We designed BoxCycle to eliminate the need for buyer-seller communication. Listings include lots of information, usually all that is available, and our checkout takes care of payments and appointments. If needed, please contact us and we'll be happy to help you; we'll contact the seller for you if necessary.
Reduced time commitment makes it more practical for sellers to list their boxes which in turn makes finding boxes to buy easier and allows for greater reuse.
You will be able to contact the seller near your confirmed appointment time if necessary using our free Anonymous Connect service.
What Condition Are the Boxes In? How Accurate is the Size Information?
For information about a specific box click on the underlined box name in the listing. Unless otherwise noted, boxes are in used condition that at least meets our minimum quality standards. For complete details visit our condition and sizing of used boxes page.
How Soon Can I Pickup My Boxes? What If My Order Is Urgent?
Unless the listing specifies a Lead Time, you can request a pickup appointment as little as 1 hour in advance. However, you'll generally need to offer the seller at least 5 hours of alternate choices within their hours (you'll be notified of any restrictions during checkout.)
Keep in mind that we will need to contact the seller to confirm box availability and appointment time. While we contact sellers by all available methods (email, phone, sms, and fax), the less advance notice you provide the less likely it is that the seller will reply to our request within your appointment choices. Allowing a few days for your pickup will reduce stress and uncertainty and increase the chance of a successful transaction.
Considerations for Urgent Orders
If you require boxes very quickly please order from AC (Auto-Confirm) sellers. They do not require a confirmation step and you will receive their location immediately after ordering.
If there are no Auto-Confirm sellers in your area you will need to place a regular order and commit to two appointment times.
Consider performance metrics and A+ status to select a seller most likely to reply quickly.
Set the 1st Appointment Choice to as soon as possible and choose the longest acceptable time range using the +hrs dropdown.
To increase the chance of seller's response, set the 2nd Choice to allow as much additional time as you can. If you'd rather minimize your commitment to the order, set the 2nd Choice to the earliest time allowed during checkout.
Please make sure that you are able to commit to both choices or are willing to pay the cancellation fee. Although many orders are confirmed within hours, there are no guarantees. Leave yourself sufficient time to get boxes elsewhere in case the seller doesn't confirm the order in time or you run into unlikely issues after confirmation. If your situation requires full certainty, please use a traditional box seller.
Can I Have My Boxes Delivered?
Some sellers offer delivery or shipping. In addition, BoxCycle can arrange for a pickup service in some areas. Check the Distance column of the search results for the following icons:

- Seller can Deliver to you


- Seller can Ship to you using a trackable third-party carrier such as UPS


- BoxCycle can arrange for a third-party to pickup the order from the seller and deliver it to you
If none of these options are available for a seller, then your order from them will need to be picked up.
Can I Look at the Boxes Before Buying?
No, this would be far too much work for sellers. However, you are protected from surprises. Sellers are not paid until after your successful pickup. Simply report issues like not as described, missed appointment, etc. to us.
Even if boxes are as described, you can elect to not complete the pickup at the cost of a modest cancellation fee. The small risk of paying this fee should be well worth the savings you typically get. Most boxes exceed our minimum quality standards.
How Do I Get the Seller's Address?
Seller's exact address is provided after you place a pickup order and the seller confirms it.
Before ordering, you are provided with all the information necessary to determine if a particular seller's location will work for you:
Map of seller locations, which can be zoomed in to street level to get the exact neighborhood.
Distance to each seller from your specified search location.
Driving distance, time, and directions to each seller from your specified search location.
NOTE: Until you are given the exact address, locations are accurate to about a block.
Is There a Minimum Order?
We have a small minimum order of $2. Individual sellers can set their preferred minimum order size; the default is $10.
---
Order Issues Questions
How Long Do I Have to Wait For Appointment Confirmation? What If the Seller Doesn't Reply?
If we are unable to confirm the order with the seller before the end of your appointment choices, the order will be automatically cancelled with no penalties. Additionally, you can cancel the order with no penalties if:
The seller hasn't replied within 48 hours of the order (plus any Lead Time) and
A reasonable amount of time within seller open hours has passed:

At least 8 hours within their open hours or
At least 2 days with some open hours.
You may also request order cancellation at an earlier time, but cancellation fees will apply. You'll have the option of transferring a cancelled order to another seller if one is available in your area.
To maintain listing quality we remove listings of sellers who do not reply within a reasonable period of time.
What Notifications Will I Receive? How Do I Track Order Status?
We will email you an order notification as soon as we receive your order. If you don't receive it within a few minutes, make sure that your email system isn't blocking our email and that you didn't make a typo.
This order notification email will include a login link to view your order status online at any time. This link is also included in most follow-up communication.
We will email you when the order is confirmed, cancelled, or if an adjustment is requested. If you checked the Mobile checkbox during checkout, we'll also notify you by text message. Please note that text messages can be delayed (to avoid disturbing you at odd hours, for example.)
Finally, we may do an appointment reminder email, text message, and/or automated phone call. We try to minimize the annoyance of receiving multiple notifications from us and your own calendar, so these reminders are only sent in situations when forgetting is more likely. They should not be relied on as your primary way of remembering your appointment.
Please keep in mind that email we send can be blocked or moved to spam. We strongly recommend that you elect to receive text messages and/or check order status online near your appointment choices. You are responsible for showing up to your confirmed appointment.
Can Boxes I Order Be Out of Stock?
We take a number of steps to maintain high quality of listings on BoxCycle including promptly removing inaccurate listings, managing seller inventory, and tracking seller performance. Although out of stock situations are less likely with BoxCycle than with many other sources of used boxes, they are still possible. We manage such situations quickly to minimize your inconvenience.
If the seller no longer has boxes they will notify us during order confirmation, often within a few hours of your order. You will then be able to cancel the order or transfer it to another seller. We will remove seller's listing to prevent other buyers from having the same problem.
You can help minimize out of stock situations by ordering your boxes with more advance notice. Many sellers receive boxes continuously and can fill orders with a bit of time even if they don't have sufficient stock at the moment of your order. Allowing more time will also help us locate alternate sellers for you.
How Do I Cancel or Adjust An Order?
Orders can be cancelled with no penalties if:
The seller does not reply within the timeframes specified in the How Long Do I Have to Wait For Appointment Confirmation FAQ or
The seller requests an adjustment to your order that isn't acceptable for you or
You have issues with your confirmed appointment that were caused by the seller and could not be prevented by you.
You may cancel your order for another reason, but cancellation fees will apply. If you decide to cancel you should do so as soon as you can since fees are generally higher the further along in the process you are. For example, fees are less when cancelling before the order is confirmed than after, and are less when cancelling with a lot of time before the appointment than with little.
Fees may also apply to some order adjustments; you should request any adjustments as quickly as possible to minimize fees.
Most cancellations and adjustments can be requested online from your order status page. You'll find available options and applicable fees in the Take Action section near the bottom of the order status page.
Cancellations, adjustments, and missed appointments significantly inconvenience sellers and disrupt the box reuse process. As a buyer, you must commit to your order and honor your appointment, or pay fees to at least partially compensate the seller for the extra work and inconvenience caused. We realize that things occasionally come up so fees are intentionally kept small, especially when you act quickly. However, fees are not negotiable. Keep in mind that BoxCycle also issues credits to you when sellers miss appointments or do not provide promised boxes.
What If Boxes Are Not As Described?
Boxes must match the specified details and meet our size and quality guidelines. If you find seller's boxes to be not as described, report the issue to us. We'll help you locate an alternate seller or cancel the order. We'll also issue a $5 store credit for your inconvenience. Finally, we'll contact the seller to help them understand the requirements and adjust their listing so the problem does not occur in the future.
Be sure to resolve quality issues before you take the boxes. You are free to come to a mutually acceptable resolution with the seller and/or get us involved as needed. We can adjust orders and issue discounts for mis-described boxes with seller's agreement.
What If the Seller Is Not At the Appointment?
First, try to contact the seller using our Anonymous Connect feature. Often they are actually at the location or close to it. If you can't reach the seller or are unable to get an acceptable resolution, please report the issue to us once lateness exceeds 15 minutes. We will track the complaint against the seller, issue you a $5 store credit for the inconvenience, and help you locate an alternate seller and transfer the order.
What If I Can't Find the Seller Location?
You'll receive the seller's address when your pickup appointment is confirmed and will be able to print driving directions through your online order status page. You can also print directions yourself through your preferred mapping service. If you get lost along the way you can contact the seller using our Anonymous Connect feature and they will often be able to walk you through the directions.
Please note that although you may be able to get help over the phone after you leave, it is ultimately your responsibility to make it to the appointment on time. Please make sure that you have valid directions prior to leaving. You may be responsible for significant lateness or a missed appointment if you aren't able to find a valid address.
How Do I Report Issues or Complete an Order? How Long Do I Have?
You should report any issues with your order as quickly as possible through your online order status page or by contacting us (leave a voicemail if necessary). Once the order is completed you will be charged, the seller will be paid, and there will be limited options for resolving problems that weren't reported.
Orders can be completed in one of the following ways:
The buyer reports successful completion. Order is completed immediately.
The buyer and the seller do nothing. Order is completed automatically in 2-3 days. We'll send the buyer an email reminder prior to automatic completion.
The seller reports successful completion. We'll send the buyer an email notification; they'll have at least 6 hours to report issues and override seller initiated completion. If the buyer does nothing the order will be completed automatically.
Why Is There a Charge On My Card?
When you place an order, your payment is authorized, but not charged. This authorization (sometimes known as a pending charge) does not transfer any money to us. However, it does reserve the amount due which will reduce your available balance. In some online bank systems, especially when you use a debit card, an authorization can appear exactly like a charge. This authorization process is the normal, recommended way of processing online transactions and is not specific to BoxCycle.
If your order is cancelled, a charge will not be put through. We'll automatically reverse the authorization when possible. Otherwise, the authorization will automatically expire and disappear after a time period that depends on your card issuing bank, generally within about 7 days of order. There is nothing we can do to remove it sooner. If you still see an incorrect charge 10 days after order date please contact us so we can make sure there wasn't a mistake.
There is typically no separate refund transaction.
---
I Have Another Question or Suggestion!
Please contact us if you have other questions or suggestions. We continuously strive to make BoxCycle simpler and more efficient so that more boxes can get reused. Your ideas help us add and prioritize improvements.